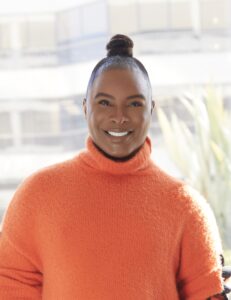 Entrepreneur. Makeup artist. Beauty therapist. Motivational speaker. Star of TLC's Ten Years Younger. 2018 recipient of The Business Leadership Award from Better Brothers LA. Brand leader.
Damone Roberts' name is synonymous with creating iconic beauty and for his renowned talent of sculpting the perfect arch. He is known for painting the features and shaping the brows of some of the world's prominent beauties and famous faces, including Oprah, Madonna, Beyoncé, Rihanna, Kim Kardashian, Ariana Grande, Taraji P. Henson, Channing Tatum, Alicia Keys, Christina Aguilera, Nicki Minaj, Nicole Kidman, Robert Downey Jr., and many more.
2022 saw Damone join Tamron Hall on her Show as part of a brand-new segment, The Tamron Hall Beauty Bar. This year also saw the Damone Roberts Brand join Thirteen Lune e-commerce, further growing both brands and supporting the same belief, to inspire the discovery of beauty brands created by Black and Brown founders that resonate with people of all colors. And to continue making luxury accessible
Damone launched his flagship brow salon, Damone Roberts Beverly Hills in 2002. ® Damone's philosophy is that each person exudes their own individual beauty and that "every face deserves the perfect frame."® 2005 saw the launch of Damone Roberts' eponymous line of brow products, making luxury accessible to the masses.
The Damone Roberts brand has also teamed up with some of the world's biggest entertainment brands. In 2016, Angry Birds/Sony Studio hosted a key event at Damone's Beverly Hills salon for beauty journalists, as one of the main characters was called Angry Brow. In 2015, the TV show Empire premiered at the Damone Roberts Salon with the cast. Damone was chosen because they considered Damone Roberts himself an Empire! In 2011, Disney approached Damone to build a duplicate of his Beverly Hills salon on their lot for the premiere of The Princess and The Frog, so that all the little girls going to the premiere could stop at salon to be turned into princesses.
Damone created the collaboration with the internationally best-selling cosmetic company M·A·C. In 2016, working closely with their development team, he created their "Brows Are It" collection, and has been the expert face behind the line.
The demand for Damone's brand has been growing over the years. The debut of his OPI nail polish in the salon's signature pistachio wall color, called Damone Roberts 1968, sold out worldwide in just four weeks.
Damone was featured as a regular contributing beauty editor for Oprah.com, with his own column titled "Dear Damone." His passion for creating the perfect arch has been featured on countless TV shows and has graced the covers of some of the globe's top magazines. His signature products have been featured on many shows and channels including MSNBC, The View, BET, Access Hollywood, Oprah, Good Morning America, CNN, Entertainment Tonight, and most recently as part of the Tamron Hall Show new Beauty Bar.
Damone Roberts' distinctive flair has immortalized him in pop culture as an answer in the 2004 edition of the board game Trivial Pursuit, and most recently as a question on the world's leading game show Jeopardy. His talent expanded from beauty into acting in Ava DuVernay's first acclaimed feature film I Will Follow, as well as her 2020 show Cherish the Day on the Oprah Winfrey Network.