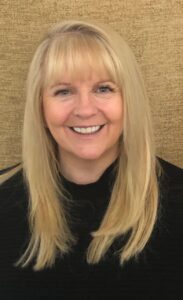 Born in a town near Glasgow, Shari Low spent her teenage years dreaming of the day that she could follow in Jackie Collins footsteps all the way to a life of decadent glamour and a kidney shaped swimming pool in LA. Alas, the combination of bills and a nocturnal predisposition changed that course, and Shari opted for a career in nightclub and hotel management in Scotland, Shanghai and Hong Kong.
Still harboring her dream of writing, Shari acted on it when she hit 30, had a mid-life crisis, and penned the first three chapters of her book What If?. She sent it off to five publishers and two agents and crossed her fingers, and on March 18th 2000 she got her first publishing deal at 3pm. At 4pm she found out she was pregnant.
Twenty one years, thirty novels and two RNA nominations later, Shari's career sales are in the millions, selling over 500,000 books in the last two years alone. Shari has topped the amazon best seller charts with many of her fiction titles, including What If?, One Day In Summer, One Day In Winter, With Or Without You, My One Month Marriage, The Last Day Of Winter, One Summer Sunrise, The Story Of Our Life and The Story Of Our Secrets. Several of her novels have achieved global reach, with rights bought by publishers in Russia, Italy, Poland, Czechoslovakia, Indonesia, Estonia and Germany
Today Shari spends her days and nights writing in a very mature, professional manner which roughly translates to 'type, panic, snack, type, panic, snack, type, panic…', repeated for 90 000 words. Shari works with a fantastic team of editors and publishing executives at Boldwood Books.
In addition to this, Shari writes collaboratively with Ross King on their Hollywood Trilogy of which Taking Hollywood and Breaking Hollywood will be re-released by the end of 2022, and Burning Hollywood will be out in the spring of 2023, again, published by Boldwood Books.
Shari also has extensive experience in radio, and writing for newspapers and magazines.
For additional information please see: