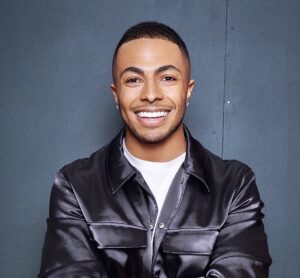 TV, Podcast and Radio Host, and 2022 Strictly Come Dancing Celebrity Contestant Tyler West has conquered whatever opportunity he has been presented, from being spotted as 'one to watch' in 2015 by Broadcast Hot Shots to being asked on the day to host live in front of 20,000 people aged 18 to Hosting and Co-Hosting National Television shows, and his own radio show on KissFM.
Tyler has always been a keen sportsman and fitness enthusiast. Through this he was introduced to Handball, representing the GB National team from a young age. This in turn led him into the world of children's television. Presenting for CBBC's MOTD KickAbout, Blue Peter & Various other features across CBBC. His passion for presenting derives from his many interests and skills covering Film, TV, music, DJ, Fashion, sport and fitness. In 2017 Tyler became the host of MTV News, a childhood dream, covering entertainment and trending news on a weekly basis. From hosting backstage at Festivals, to creating deep dive mini-documentary's, Tyler Continued to make a presence in the online digital space. He then became the leading presenter on the LEGO YouTube network to over 6.5million subscribers.
At just 19 Tyler landed his first series, hosting a brand new show on CBBC, called KickAbout+ This RTS nominated show focused on sports beyond football, it was a big hit for the channel, reaching out to more of a diverse audience. Feeding his passion for storytelling, Tyler developed an idea for inspiring stories to be told his podcast the Every Day Hustle. An original idea by him produced by Studio71uk, which on launch peaked at number 12 in the iTunes podcast charts.
In 2018 we saw Tyler delve even more into entertainment when he became the host of HQ Trivia, the award winning trivia app. Hosting the UK show live every week to its users.
2019 saw Tyler became the newest addition to the Kiss FM team with his own weekly slot 7pm-11pm Mon-Thurs on the UK's hit radio station, While also Performing at DJ Events around the UK and abroad. After only 6 months, Tyler was offered his current slot on KISS Drive Time 4-7 Mon-Fri. The soundtrack for listeners journey home, with competitions, giveaways, and all the chat in between. The KISS Network reaches over 5.6 million listeners. His first year resulted in Tyler being nominated for a 2020 ARIA's award – Best New Presenter.
2020 saw Tyler as the new host of the first ever MTV's Celebrity Ex On The Beach the podcast. Leaning into his passion for film, Tyler was then asked Co-Host the 2020 EE Bafta Awards Red Carpet lLve show in partnership with Facebook.
2021 saw Tyler land his first BBC THREE series. Co-hosting Flat Out Fabulous, an interior design show for millennials (transforming your place for the price of your night out). The 10 part series was produced by Ricochet. In addition, Tyler was also announced as the new Host of The MTV Movie Show. An online show deep diving into the latest movies, ones to watch and also Leading junket interviews with Hollywood favorites; such as Daniel Craig, Rami Malik, Paul Rudd Elizabeth Banks, Jack Black, just to name a few. The MTV Movie Show comes to YouTube soon.
Tyler is honored to be an Ambassador for the Princes Trust.
You can catch him on the radio in your afternoons from 4-7pm MON-FRI on KISSFM.
Seamus Lyte works alongside Tylers UK representatives and proudly Manages Tyler for the USA.
UK laurahill@independenttalent.com / florawebber@independenttalent.com
Showreel https://www.tylerwest.co.uk/media