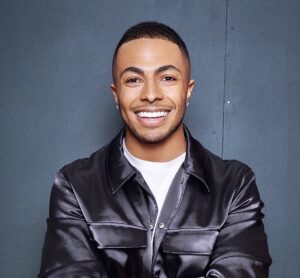 Tyler West is a talent with many strings to his bow. From previously representing Team GB in competitions around the world to now hosting on national television, radio and online. His passion for presenting derives from his many interests, covering music, DJ, gaming, fashion, film, and fitness.
In 2018, Tyler joined the MTV News team hosting their weekly news download for the channel. As he continued to make a presence in the digital space, he became one of the leading presenters on the LEGO YouTube network to over 10 million subscribers. Later in the year, Tyler was put as the host for the award winning trivia app HQ Trivia. Hosting the UK show live every week to the apps nationwide users.
In 2019, Tyler was involved in other exciting commercial projects and ventures, including his move into radio, as Host to the ever popular KISS FM drive time show, after the continued success of his KISS FM evening slot in which he was ARIA Nominated as best new radio presenter. It is his genuine character, on and off screen, that drives his success and ever growing passion for presenting and entertaining, which shows no sign of slowing any time soon!
His presenting career began in 2012 where he was interviewed by CBBC for the hit kids tv show Friday Download regarding his involvement in Sport. Subsequently Tyler became a guest presenter for the show, finished his studies then in 2014 Tyler landed a spot presenting on CBBC for MOTD Kickabout.
2015 was a good year. Aged just 19, Tyler landed his first series hosting a brand new show to CBBC, RTS Nominated Kickabout+. Tyler was then named as one of the top 5 On Screen Talent in Broadcast magazines Hot Shots Awards. and his hard work continued through to 2018 with him hosting special shows for MOTD Kickabout, specials for CBBC and co-hosting Blue Peter.
Through his passion of storytelling, Tyler developed his own podcast the Every Day Hustle Show (available on iTunes, Spotify & Acast) A show diving into pivotal day's that have changed peoples lives focusing on their journeys to where they are today. An inspiring listen which proved to be very successful, with the first series ranking in the top 20 of the iTunes Business charts.
2021 will see Tyler hosting his drive time slot on Kiss FM, with various DJ appearances both in the UK and abroad. In addition an exciting new series with the BBC as well as online projects to be announced in 2021.
Seamus Lyte Management represents Tyler in the USA.
UK laurahill@independenttalent.com / florawebber@independenttalent.com
Showreel https://www.tylerwest.co.uk/media